The Future of Advance Air Mobility Fasteners is Adhesive-Bonding
Advances in thermoplastics and fastener machining in the aerospace industry have resulted in some incredible fasteners that significantly reduce weight, and repair downtime for craft.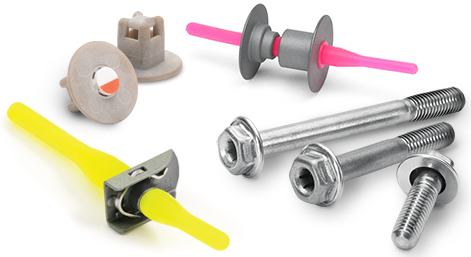 Click Bond is the leading lightweight mounting and fastening solutions designer and manufacturer for aerospace, military, industrial, surface vehicle, and space exploration.
Rivetless Nutplates
Click Bond's adhesive-bonded rivetless nutplates eliminate the drilling of attachment rivet holes traditionally associated with nutplate installation, preserving structural integrity and longevity, enabling weight savings, and reducing installation, rework, and repair time and cost. Download our nutplate brochure.
LoMas Screws
The LoMas Screw is a hollow-shank, stainless steel screw with a captive washer that is up to 48% lighter than standard steel alternatives. This innovation features a dual-drive design, with both an internal NAS1800 compatible recess and a wrenchable external hex head. Download the spec sheet here.
Thermoplastic Mounts
Click Bond's adhesive-bonded mounts offer enhanced design flexibility for routing of systems and protective blankets in both new construction and retrofit applications. Browse our entire line of mounts here.