Adhesive-bonded fasteners require no mounting hardware: This provides substantial weight savings, and no holes means they install almost anywhere.
Adhesive-bonded fasteners have been used for decades on thousands of aircraft worldwide, including commercial and military jets. They are ideal for composite materials, as they preserve structural integrity in two ways: First, adhesive bonding means no drilled installation holes, which could compromise the composite material. Second, the adhesive itself provides a barrier between metals and composite materials, offering superior protection against galvanic corrosion. Click Bond products are designed to extend product life, reduce labor costs, facilitate more simplified repairs, and streamline the manufacturing process.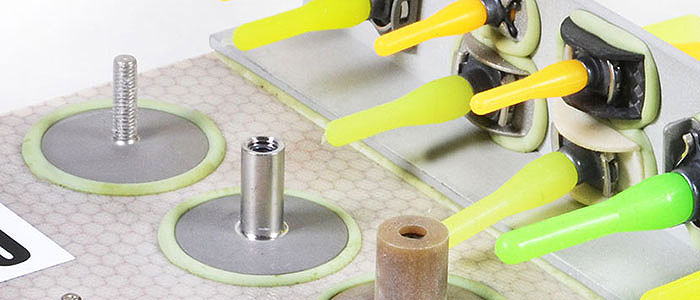 Click Bond is the leading designer and manufacturer of lightweight mounting and fastening solutions for aerospace, military, industrial, surface vehicle, and space-exploration applications. Browse our entire line of adhesive-bonded fasteners by clicking here.
Watch our Unique Adhesive-Bonded Assembly Technology
Nutplates that Eliminate the Need for Rivet Holes
Click Bond rivetless nutplates are currently used on both commercial and military aircraft. Adhesive-bonded nutplates don't require the two rivet-mounting holes needed by riveted nutplates, reducing nutplate installation time by 68%. They provide a high-strength bonded attachment to a variety of materials. Our split-beam nutplates provide approximately 250 reuse cycles, while reducing galling and thread seizing. FLEXBOND® sleeve nutplates provide secondary mechanical retention in addition to the adhesive and lightning strike protection. Learn More.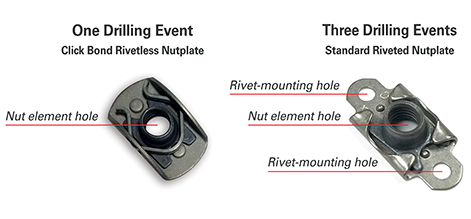 Swivel Cable-Tie Mounts
Composite-base, swivel cable-tie mounts with nylon or PEEK saddles offer user-designed placement schemes for routing at any angle with the added benefit of aluminum or lightweight composite bases.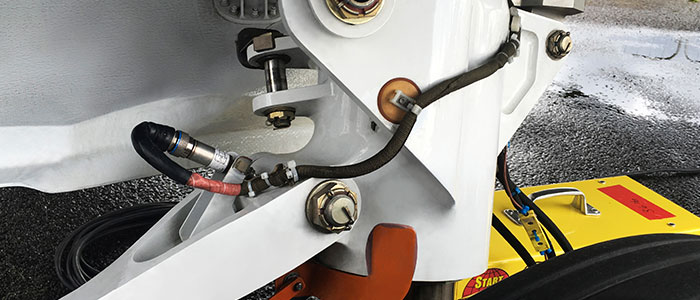 Studs and Standoffs
Bonded studs and standoffs create attachment points where drill-through holes or hotwork is not applicable, all while preserving the structural integrity of the substrate.

Adhesive bonding is ideal for attaching to highly stressed, fatigue-critical, pressurized, or fluid-boundary structures. That's because there are no installation holes to penetrate the surface.
Connect with Us on Social Media